Friends of Barrowby School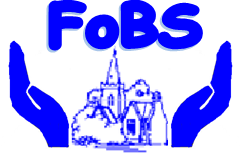 At Barrowby Church of England Primary School, we value the support of our parents and encourage them to be involved in the life of the school.
What is FOBS?
FOBS stands for 'Friends of Barrowby School' which actively supports the School and teaching staff by organising or helping to raise monies for the School.
We are a registered Charity with officers including a Chairperson, Vice Chairperson, Treasurer and Secretary who are elected each year at the AGM (Annual General Meeting).
Our Committee Members are:
Chairperson - Nicola Buttigieg
Vice Chairperson - Laura Freestone
Treasurer - Kate Banos
Minutes Secretary - Sarah Spencer
Publicity Secretary - Robyn Tailor
Social Secretary - Sarah Spencer
If you have any questions about FOBS please contact either members of the Committee or school.
Any parent/carer who has a child/ren at the School are warmly invited to attend the meetings which are held.
There are many ways you can help make difference:
Join the Committee
Attend meetings when you are able, to offer ideas/support
Volunteer support/time at various fund raising events
There are different ways to serve the same Lord, and we can each do different things.
Yet the same God works in all of us and helps us in everything we do. 1 Corinthians 12: 5-6
Our meetings are held approximately once a month usually on a Friday afternoon, in school, during term time. They last for approximately an hour. There is an AGM held once a year, in the Autumn term.
At these meetings (with a tea or coffee and biscuit in hand) we:
discuss any new ideas
organise volunteer support for fundraising events
liaise with the school
plan forthcoming events.
What fundraising events do we do?
Our regular fundraising events include:
KS2 Christmas Disco
Reception Christmas Assembly
KS1 Christmas Nativity
Christmas Fair (bi annual)
School Sports Day
Summer Fair (bi annual)
School Performances
Please use the links below: